InterLAN Internet Exchange is a neutral national interconnection platform for data traffic and internet exchange, with national points of presence in Bucharest, Constanta, Timisoara, Craiova, Arad, Cluj-Napoca, Suceava, Iasi, Timisoara and an international point of presence in Frankfurt, Germany.
The infrastructure provided by InterLAN allows more networks to interconnect directly and to perform free traffic exchange. This leads to the more efficient use of each operator's Internet access connections, determining a decrease in costs and an increase of the offered service quality.
Through the InterLAN Internet Exchange platform, the aggregated traffic has daily peaks of over 370 Gbps.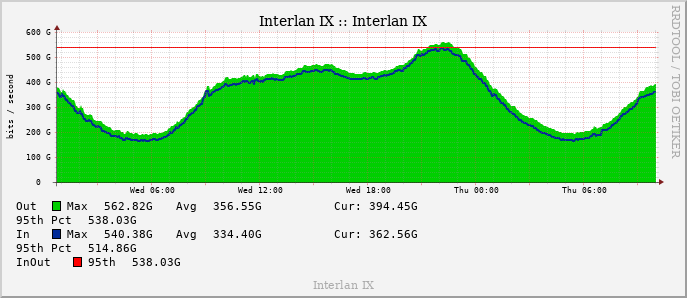 The aggregated traffic transited through the InterLAN platform in the last 24 hours.
Fixed and mobile Internet access service providers, network operators, content service providers, social media platforms, educational networks, financial-banking institutions, internet domain name service providers, state institutions, mass-media institutions etc. are connected to the InterLAN.
"The Internet Revealed" – A short documentary about Internet Exchange, created by Euro-IX.
InterLAN Internet Exchange is a private company with Romanian capital entirely owned by the Interlan Association, a non-profit organization of Romanian Internet access service providers, headquartered in Bucharest.
Starting with 2008 InterLAN is a full rights member of Euro-IX, the European organization of Internet Exchanges and starting with 2015 it is a full rights member of RIPE NCC, the regional manager of internet numbering resources for Europe, Central Asia and the Middle East.